Last week was big week.  It had nothing to do with hitting Vegas and everything to do with activating the WPP Sitecore Alliance.  What is that?
Let's take a step back and into the consumers shoes.  Consumer are all saying the same thing:
I want you to want me!
At Wunderman, we call this wantedness.   It's about adapting the brand needs to those of the consumer.  It's a simple as that.  Now WPP is the largest communications services group in the world that engages with the majority of the Fortune 500 companies in one form or another.  They're big.  Being on the front line, WPP truly understands the consumer want and translates that into brand needs.  One of those brand needs is to deliver personalised experiences at scale to better serve consumers at every interaction.  Not just the web, but everywhere.  Whether you're driving in your car, shopping with mates, flying solo, or chilling to your favourite tracks on the beach.  Everywhere means everywhere.  For this, WPP is working with Sitecore and it's Experience Cloud Platform to create, assemble and integrate the digital technology required to produce those bigger and better returns on marketing investments. Exciting times.
Brand Value drives Brand Loyalty
But it goes back to a brand having clear purpose and living by it in order to retain loyal customers.  I spoke about brand value fails before, citing the British Airways disaster (which they have since written to me and told me they don't value me a customer – I'm not surprised).  Brand purpose was the focus of the closing keynote panel on the first day led by Mark Zablan, Chief Revenue Officer at Sitecore with representatives from WPP, Sapient and Deloitte. Is that me below?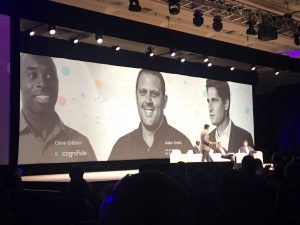 What was clear from last week is that Sitecore is stepping up and going enterprise. Really enterprise.  I believe Sitecore Experience Cloud is a major step by Sitecore to create, deliver and support digital marketing platforms for global audiences.  The WPP Sitecore Alliance brings consumers and brands that one step closer together on that journey.  Buckle up people.
WPP Sitecore Alliance