It's a question being asked a lot these days.  By clients, the industry, fellow colleagues, creatives, technologists; the list goes on. So in June I attended an EConsultancy course on Digital Content Strategy delivered by Catherine Toole, CEO of Sticky Content to find out from a seasoned content strategist.  It was a great one-day overview that provoked a lot of lively discussion.  Then I got the slide that listed just some of the things a content strategist does.  Take a look:
brand strategy
messaging strategy
competitor content audit
format development
tone of voice
content style guide
copy deck
idea generation
editorial calendar
editorial strategy
SEO/PPC strategy
language guidelines
message map
content production schedule
terms of use
page tables
content licensing
sitemap
style guide
taxonomy
content approval workflow
migration strategy
content analysis
content audit
content inventory
content assessment
content gap analysis
content model
editorial workflow
content types
quality assurance tools
metadata strategy
cms architecture
content migration plan
metadata framework
Big list.  Interestingly, a number of these tasks overlap and/or are typically undertaken executioners.  Executioners are system integrators responsible for CMS implementations.  With that in mind, the following table adds the executioner to the mix and re-shuffles the tasks.  Here's what we get:
Strategist
Both
Executioner
brand strategy
messaging strategy
competitor content audit
format development
tone of voice
content style guide
copy deck
idea generation
editorial calendar
editorial strategy
SEO/PPC strategy
language guidelines
message map
content production schedule
terms of use
page tables
content licensing
sitemap
style guide
taxonomy
content approval workflow
migration strategy
content analysis
content audit
content inventory
content assessment
content gap analysis
content model
editorial workflow
content types
quality assurance tools
metadata strategy
cms architecture
content migration plan
metadata framework
The middle column is where the strategist's and executioner's worlds collide.  Here, the outputs from the strategist both informs and is informed by downstream activities performed by the executioner.  It is these shared tasks that have proven to be difficult to co-ordinate between the two roles, the client and third parties on a content project.  Either they are not done at all (e.g. lack of budget, experience, or desire) or they are completed in isolation before the executioner is engaged and presented as a fait accompli (e.g. projects are design led, involve multiple agencies, or implementation is viewed as geek stuff/less important).  Neither work.
Making it work
Content strategist don't just do strategy, in the same way that executioners do more than execute.
When performing a content analysis to identify a family of pages (templates) or surfacing recurring business assets used throughout a website (content types), this is best done with both the strategist and executioner working together.  The strategist doing the early upfront gathering/shaping of the who, what, why, how and when of content ideas. The executioner challenging, adapting and presenting (new) content ideas within the context of the target CMS platform.  Working closely with content strategists (or those in similar roles) in this manner is rare.  However, when it happens it has proven to be both an effective and efficient partnership.
The Strategist and Executioner as Partners
Time for a real example. Content modelling. The strategist will take the lead and map out the key content assets. This is a high involvement task engaging with the business and other key stakeholders. As the project progresses, the executioner's involvement in content modelling grows.  It remains high because it has a direct impact on the future management business assets and the technology required to support both them and their users. However, the strategist always remains involved. The spikes of activity below reflect changes to the business that result in assets being added/modified/removed from the content model.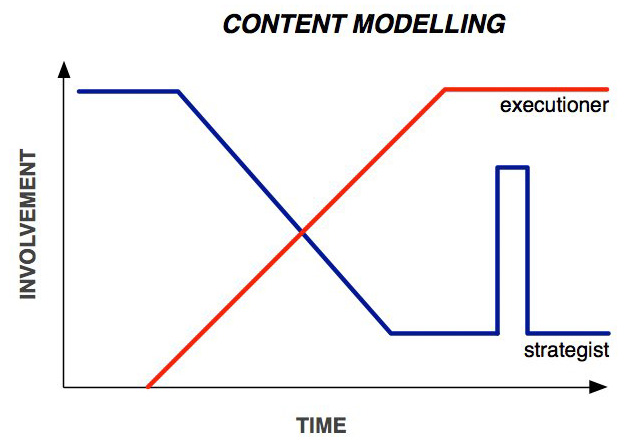 Next Steps
Examples. Examples. And more examples.
I'm currently looking for as many sample outputs and case studies of how content strategist/executioners perform the shared tasks in the middle column.  If you have any online resources, articules, presentations and/or anything that might fit the bill, please leave a comment.  Over the coming months I'll be sharing these applied uses content strategy with clear slant towards how they are executed downstream in future posts.  I'll be presenting a few of these ideas at this year's CS Forum conference in London this September.  Hopefully see you there, but either way if you've got stuff to share, please go on and share it!