I recently visited Six Flags in Illinois – a massive and totally awesome theme park. The purchase journey presented a number of options to buy the tickets: Mobile, Print, Collect and Post. Everyone one of them was a pain in the ass option with the exception of mobile. Who prints stuff when they're on holiday? How many foreign travellers have a US address? Who wants to wait in line to collect tickets? However, I do have a mobile. To me, that was the only relevant option. Going frictionless means making it easy for me, the consumer, to engage with your business. What I'm seeing in the market is large scale failure in going frictionless by the majority and insane levels of success by those that are getting it right. And the gap between leaders and laggards is growing.
Going Frictionless: The Story
We are all consumers. You absolutely must create product and services that are simple, accessible and work to deliver frictionless consumer experiences. It's the new norm.  Consumers expect companies to have their house in order.  Going frictionless is today's brand challenge.
Know that there are two important audiences going frictionless needs to cater for:
The consumer; we must deliver seamless and consistent engagement across all touch points in the journey.
The enterprise; we must design systemic and sustainable business processes that craft consumer journeys from frictionless experiences at every touchpoint.
You need both. There is no point striving for frictionless consumer experiences if the enterprise cannot support them in a sustainable way at scale. Equally, the enterprise needs to craft connected experiences that consumers feel are frictionless. These two audiences are two sides of the same going frictionless coin where one informs and is informed by the other.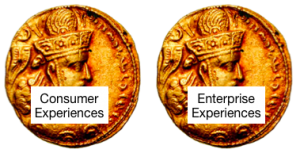 Going Frictionless: The Consumer Experience
Ocado is a UK online shopping service. It takes the hassle out of shopping. Ocado provides simple ways to save shopping lists,  delivery groceries, make recommendation, suggest replacements and an way to buy. Ocado lets time poor people complete a full shop in less than five minutes from anywhere in the world and get it delivered when and where "you" need it. The customer journey is comprised of several frictionless experiences that are continuously being improved over time.
We are not going to rehash the value of Spotify, Amazon, Uber, Netflix, and AirBnb (or SAUNA for short) that invest heavily in frictionless experiences. Instead we look to the hundreds of SAUNA first followers succeeding.  One of my personal favourites is Revolut.  Revolut makes multi-currency payments simple by mixing physical credit cards with a great mobile experience. Revolut is going frictionless and succeeding. Now contrast that with WeSwap that was first on the scene but is by no means frictionless.  I constantly experience friction bumps WeSwap the product and service offering.  WeSwap is now lagging behind Revolut and the gap is growing. Disclaimer, I'm a shareholder in WeSwap and I speak these words with a heavy heart.
We want frictionless experiences. We need brands that invest and deliver products and services that are frictionless. Products and services that are simple, accessible and work.
Going Frictionless: The Enterprise Experience
But here's the rub, frictionless experiences are difficult to deliver well. There are multiple elephants in the room.  The enterprise must get all elephants dancing together in perfect harmony to deliver on the frictionless consumer experience promise.
So brands are waking up and stepping up. They have to. The rise of enterprise experience is where the SAUNA leaders keep winning. It's not an option to stand still. In 10 years, when the predicated 40% of the Fortune 500 companies cease to exist, going frictionless is critical to either joining or remaining part of the winning 60%. Those enterprises that deliver frictionless experiences to their customers will succeed only by being frictionless themselves.
But what does it take become a frictionless enterprise? One key part of that is understanding that the SAUNA leaders are in fact platform businesses. They invest in building business platforms to drive value at scale across the enterprise. Taking a platform approach helps the enterprise to become frictionless.  This is a topic I'll return in a later post.
Going Frictionless: Summary
A frictionless enterprise helps craft frictionless consumer experiences that drives meaningful and relevant engagements across the business. So, if you agree that SAUNA leaders are indeed platform businesses, which in turn are underpinned by their own business platforms, what are you doing to keep up and/or get in front of your competitors today?