I recently finished the book Team of Teams. For me, it was one of those books that give sensible names to the things already do, but articulated in a clear, smart, and demonstrable way.
It's about leadership. What was complicated before is truly complex now. A complicated problem can be decomposed into a number of parts with a manageable amount of inter-relationships. Complex problems are those where the inter-relationships between the parts are much greater and nuanced. A jigsaw puzzle is complicated, but a virus complex.
You cannot solve complex problems with complicated solutions. Hierarchical organizational structures with command and control leadership are efficient approaches to solve complicated problems. However, the effective resolution of complex problems requires a different approach.
Shared Consciousness
So we must build teams where information flows like water. Be open and transparent. And develop that operational muscle to make information readily accessible in near real-time between trusted teams. There are many techniques for doing this (PPP Reports, stand-up meetings, 1-to-1s).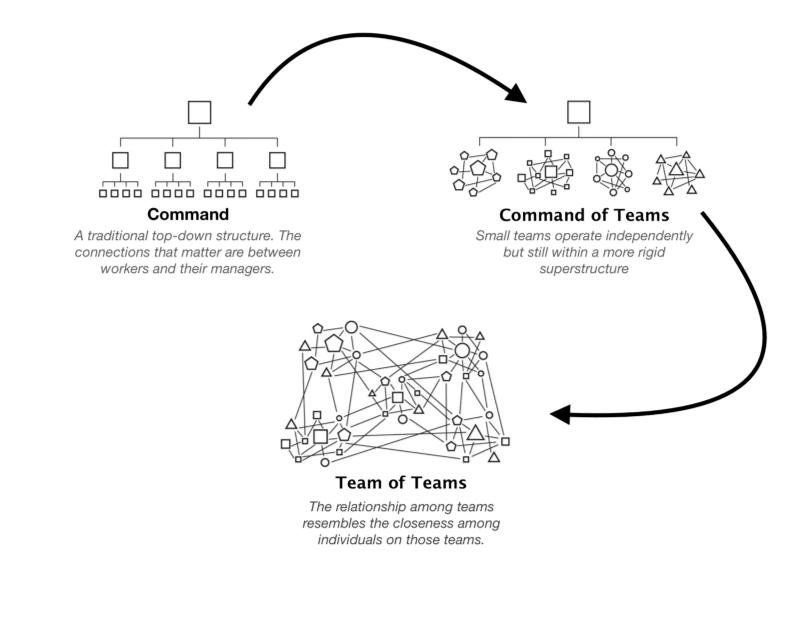 Empowered Execution
Grow and nurture leaders. Your job as a leader is to provide oversight. Proactively get out of the way. Don't stand in front of the information firehose throttling access. Don't make the decisions upstream and disempower teams downstream. The flow of information within complex environments is too much for a single leader to make informed and impactful decisions with the speed and accuracy expected of them. So don't.
The transition from Command to Command of Teams is a good first step. However, an efficient shared consciousness brings diminishing effectiveness returns in Command of Teams structures as leaders quickly starting drowning in information.
Becoming a gardener
Instead, a great leader is oil in the engine. They connect the parts. Feeding the teams. Providing oversight. Sharing information. And in doing so, tending the complex environment to enable growth.
So I've heard this put two ways:
Nose-In, Fingers-Out
Eyes-On, Hands-Off.
Both work. So go be that gardener and grow great leaders.