Last month industry experts met to discuss the state of content management. Janus Boye facilitated CEOs, CTOs, market analysts, and subject matter experts unpack the term content. What we discovered, with the help of Theresa Regli, was the undeniable rise of the marketing content hub.
Content
Content is communication. As an industry, we struggle to communicate effectively at scale across multiple:
Audiences
Languages
Markets
Channels
Devices
Technologies
Traditionally, we view content through two important lenses:
Copy as text
Assets as images, documents, videos, sound, etc.
In doing so, this gives us to very simple formula for defining what content is:
About Copy
In the early days of the web, communication was heavy on copy. A web site migration was a lift and shift of company documents onto the web. The resultant was walls of text positioned copy was king.
As we learnt to write more effectively for the web, websites applied the "less is more rule" to copy. Web pages became easier to read. Whitespace was celebrated. The amount of web copy reduced and the use of assets increased.
About Assets
Today, people are engaging more and more with videos, sound and images than ever before.  The use of assets in marketing communicationsis on the rise:
YouTube uploads 300 hours of video every minute.
Netflix is 15% of the total downstream bandwidth for the entire internet.
Instagram has over 100 million post per day.
Copy remains important but so are assets. Assets are a critical part of any customer experience. Great experiences need both copy and assets.
Managing Content
So, what does this mean for the systems responsible for managing content? Technology enables content authors to effectively manage copy and assets. Interestingly, vendors have also divided their technology solutions along similar content lines. A CMS predominantly manages copy where a DAM focuses on the asset part of the content equation.
Content Management Systems

A CMS is better equipped to manage copy than assets. The majority of CMS solutions target the web. A Web CMS (WCMS) creates copy through a web authoring interface and publishes for desktop, tablet and mobile consumption. The popularity of WCMS increased in line with the ubiquitous spread of the web. Although WCMS solutions purport to be channel agnostic, the web remains the channel of choice them.
WCMS capture copy, mix-in assets, and publish web pages. The strategy is clear. Build just enough asset management capability within the WCMS to enable authors to assemble web site content. WCMS vendors chose to integrate with enterprise DAMs, some made strategic partnership, whilst others built their own web-based DAMs. But for WCMS, treatment of content was:
Copy First, Assets Second
Digital Asset Management
Assets are fundamentally different from copy. Assets have different properties, life cycles, audiences, and use cases. As a result, a DAM solution does not manage assets in the same way that a WCMS manages copy.
DAM solutions need to track asset usage with rights management software. Approval processes tend to be more rigorous. The storage and streaming of assets are critical and differentiated by asset types (e.g. video vs sound). Assets need to be channel agnostic and accessible across the enterprise so that same video can be re-purposed at a market level.
DAM solutions are purchased by marketing departments that share assets across e-commerce, outbound communications, social channels, point of sale systems, and of course web sites. However, pure play DAMs no longer meet the needs to marketing departments that need more accessible and available assets at scale to create great experiences. A DAM solutions view on content is:
Assets first, Copy second
Marketing Content Hub
Useful and usable content is intelligent. This requires both copy and assets to be:
Raw; enables content to be produced in one channel and consumer in another.
Self-Describing; enables machines to ask content questions and get meaningful answers back.
Modular; enables applications to disassemble and re-assemble content on demand
A marketing content hub treats copy and assets as equals. The hub is based upon a content model that is well-structured and meaningful. The content hub enables marketing to gain fast accessible to highly available copy and assets at scale. The marketing content hub sits at the centre of the content universe, co-ordinating and collaborating with traditional systems of record such as DAM, WCMS, PIM, eCommerce, Point of Sal, and ERP.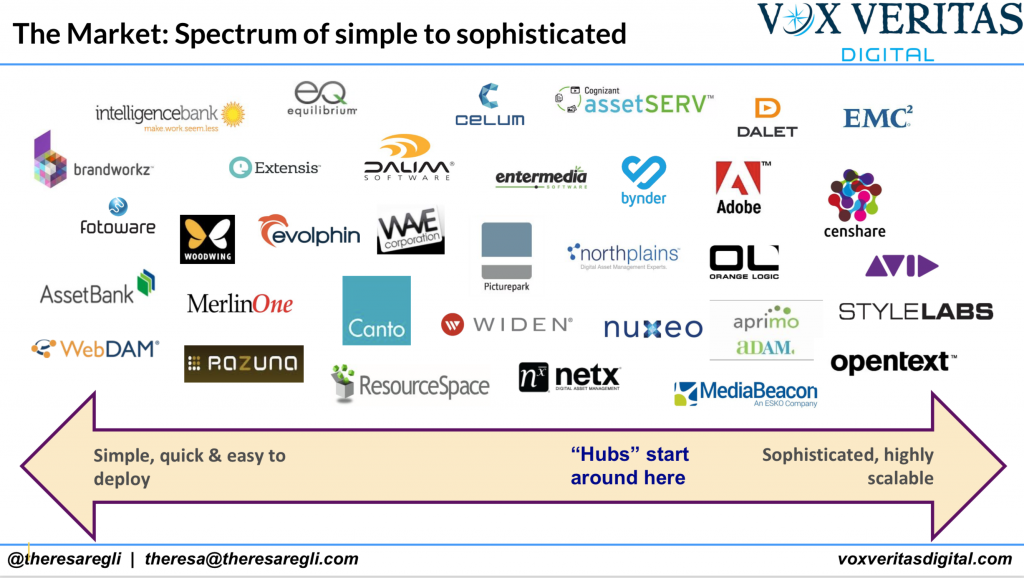 Simple?  Not quite.  It never is when there is revenue on the table.
The above shows DAM vendors moving into the marketing content hub space. WCMS vendors are also trying to keep their products relevant. by adding more sophisticated asset management capabilities to their solutions. Drupal's Content Hub syndicates content between Drupal sites and Sitecore recently acquired Stylelabs into its WCMS offering.
The marketing content hub is a vendor solution for providing content at a service back into the business. It is just one part of the content engine, but an important part none the less.