Artificial Intelligence and Intelligent Automation (AiA) are connected by intelligence.  And it's no coincidence.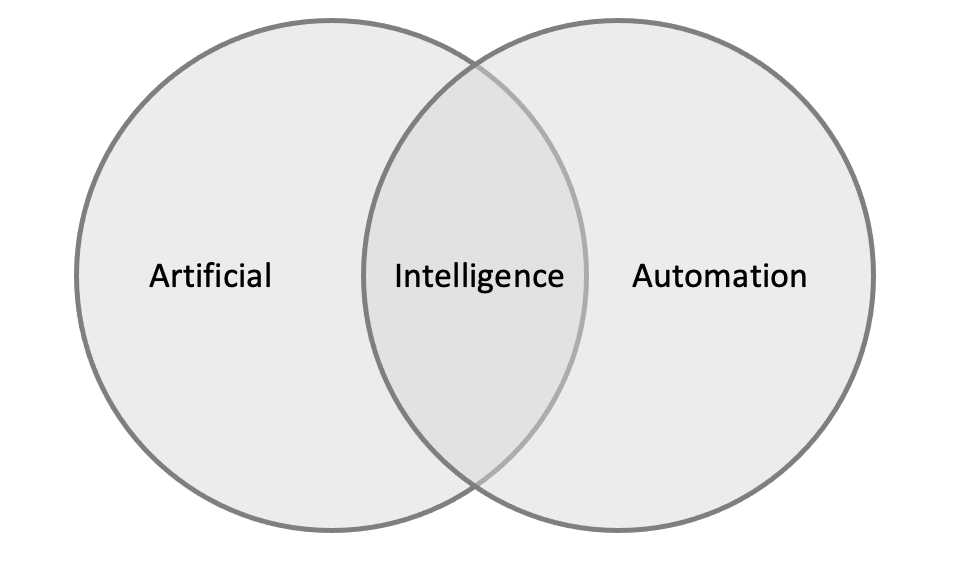 (Intelligent) Automation
The corporate ask of automation remains the same; do more with less. Because time is money. Automation is an efficiency play to do things right. Map out the processes that people follow to get things done. Then, start automating the simple tasks to free up increasing amounts of time to do things better suited for humans.
What we really want is for people to adopt more automation, adapt their current ways of working, to ultimately readily embrace machines as part of their everyday. Let's be clear, augmented humans are (going to be) more productive than non-augmented ones. The future of work is less about (wo)man being replaced by machines, but more about augmented humans displacing non-augmented ones. This is why workers that ignore what's happening today do so that their risk, and will more likely end up on the wrong side of the change equation.
Automation doesn't create much. It optimizes a lot. Intelligent automation uses AI to learn how to automate repetitive and routine tasks.
Artificial (Intelligence)
AI is the technology that enables machines to perform tasks that typically require human intelligence.  AI is an effectiveness play to do the right things. Machines run algorithms that analyze data, find patterns in it, and make predictions off it.  Today, AI makes routine predictions that need humans to make those last-mile decisions.  You must've terms like keeping the human in the loop. Humans still provide the necessary guardrails on decision-making and learning goals to continuously progress machines gain more and more human intelligence.  
However, machines are learning faster than humans in specific contexts. Once trained, AI required less data, in new contexts, to make accurate predictions. AI is accelerating toward machine intelligence.
Smarter Children
So, what if as a parent you knew that your child was going to be so much smarter than you ever could be? Not only that but your child's intelligence could potentially periodically double ad infinitum.   What would you do?  And how would you do it? 
As a civilization, we have struggled to manage the human race with many amazing leaps and near-disastrous events along the way. We are adding machines into the mix and are re-writing new rules of engagement. I hope we do better than the Titans and Olympians, where Zeus and his siblings overthrew their parents. Humans are not Titans, and machines are not Olympians. However, we are going to have to work hard to co-exist and deftly sidestep the fall of the Titans (read as humanity)!