We all know innovation is important. But in uncertain economic times, innovation becomes urgent. Innovation is a differentiator tied to future growth and long-term value creation.  There is no faking it here.  You won't get the results and will lose. But there are simple three steps to innovation you should know to help you make it.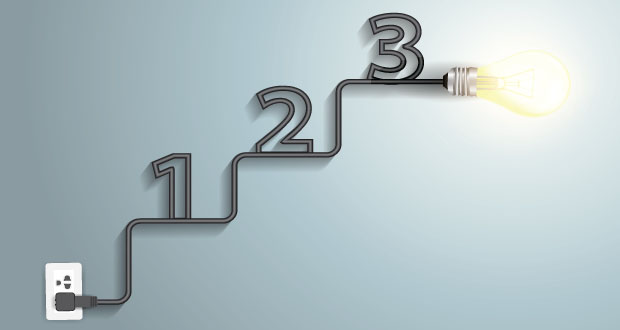 I'm always listening out for the different ways people approach innovation and get results.  I subscribe to Inside the Strategy Room, a McKinsey podcast and stumbled across an episode on taking the fear out of innovation.  This post is an extension of that conversation. Let's dig in.
What are the three steps to innovation?
Innovation is the practice of:
Finding the right problem to solve
Identifying the right technology to solve that problem
Fitting the right business model to scale the solution
Re-look at those three steps to innovation.  They are connected. A subtle shift from problem to solution. Although enumerated in a linear fashion, innovation tends to cycle a few times around these steps to get there. 
What are the innovation outputs?
But don't stop there. What about the outputs at every step of the way? Think about:
Find the problem 
Identify the solution
Fit the business model
You need to be clear on all three of these outputs to deliver true innovation: problem, solution, and business model.  Each output should have standard format and vocabulary for expressing them for all participants in your innovation ecosystem. Simple to say, hard to execute.  
What are the innovation practices?
Lastly, let's focus on the innovation practices. This is the hard part. The practices differentiates good from great innovations:
Find the problem
Identify the solution
Fit the business model
How do you find problems, identify solutions, and fit them into business models that work .  This takes both experience and expertise doing innovation. Getting results and learning from them. Really doing the do, where practice makes progress.  Every person, team, company, brand, or organization, does this differently. Driven by culture, access to talent, and leadership. And this is where innovation happens.
Just be clear on where your strengths and weaknesses lie today.  Leverage strengths now and improve weaknesses over time. 
Why what we make matters
Before I leave, the presenters on the podcast said something else about innovation that resonated with me:
We make originals so that we don't go creatively bankrupt
We make sequels so that we don't go commercially bankrupt
So we need to do both.  However like any industry, sequels/duplicates/reruns are common, some truly exceptional.  But originals are timeless classic.  Don't be fooled. They are not the same.
Innovation is about improvement and tends to fall in the sequels category.  Innovation is about percentage gains. True originals are inventions.  They require different approaches that result in new business models, new technologies, and new problems to solve.  Inventions are moonshot gains. So when defining success with your teams, with your three steps to innovation, consider which parts above are relevant for you.